ABSOLUTE VALUE PUBLICATIONS
We are excited to announce that Western Campus Resources is now the exclusive distributor of Absolute Value Publication's B.C. Workbooks and Solutions Manuals! These workbooks are beloved throughout the province and tie in with the updated B.C. Math curriculum!
Absolute Value Publication's B.C. Workbooks and Teacher's Solutions Manuals are now available, exclusively through Western Campus Resources!
All AVP B.C. Workbooks and Teacher's Manuals distributed by Western Campus Resources
*Teacher's Solutions Manuals are not pictured above, but are available for each student book!
This series is 100% aligned with the current B.C. curriculum! The B.C. workbooks highlight Indigenous references throughout the books and feature new workbook cover art. These books are organized with each curricular topic sub-divided into individual lessons.
Absolute Value Publications workbooks strike the right balance between inquiry based learning and reinforcement through practice.
Lessons are Composed of Four Parts
1. Investigations, Explorations, or Review include inquiry based learning that can be teacher led, student led, or a combination of both.
2. Class Examples are applications of the investigations, explorations, or review.
3. Assignments include short response, extended response, multiple choice, and numeric response questions provided for student practice.
4. Answer Key contains the answers to each assignment.


Each unit has a Practice Test that includes multiple choice, numerical response, and written response questions!
The Teacher Solution Manuals are a complete copy of the books with detailed solutions to all the investigations, explorations, review, class examples, and assignments.


Advantages for Teachers
Written by teachers experienced in preparing students for success in high school and diploma examinations.
Comprehensively covers the B.C. Mathematics curriculum.
Can be used as the main resource, or in conjunction with a textbook, or for extra assignments, or review.
Reduces school photocopying costs and time.
Allows for easy lesson planning in the case of teacher or student absence.
Advantages for Students
Students write in the book so that the math theory, worked examples, and assignments are all in one place for easy review.
Students can write on the diagrams and graphs.
Provides class examples and assignments so that students can use their time more efficiently. By focusing on solving problems and making their own notes, students improve their study skills.
For independent learners, the book plus solution manual fosters self-paced learning.
Encourages inquiry-based learning, group learning, and peer tutoring.
The design of the book ensures that students are fully aware of the course expectations.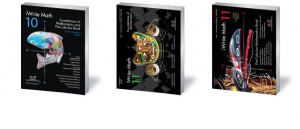 Contact Us today for a FREE quote.