Foods: How & Why
Do you remember the old "Management and Foods" text which was so popular in BC Home Ec classrooms? It's back!
The popular Management & Foods textbook, used widely across BC from 1975-2010, is back in a revised and rewritten edition! Foods: How & Why is the perfect resource for BC Home Economics teachers!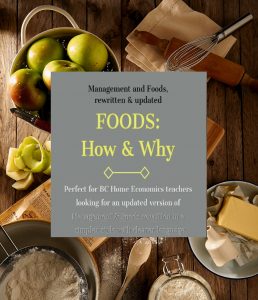 This new Foods: How & Why resource is available to schools exclusively through Western Campus! We are able to offer this in both print and digital format!
What's Included
109 recipes included designed for cooking in pairs
313 pages filled with information specifically applicable for BC Senior Foods curriculum (Grades 10-12)
30 unique and informative chapters
84% of chapters have recipes included at the end
Additional Information
Clear & straightforward language
Theory & application in one resource
Recipes are portioned for two cooking partners
Both imperial and metric measurements included
Cooking terminology and techniques are explained within recipes when needed
Charts & diagrams are included
Step by step images are included in the baking chapters
Contact us today for additional information, to place an order, or to request review access!